Industry News and Events
Posted:Tue, Nov 16th, 2021 11:51:49 am
Due to the Public Health restrictions currently in effect, as well as the high COVID-19 case numbers in the region, the Nova Scotia Department of Agriculture and Nova Scotia Beekeepers' Association have jointly made the tough decision to move the 5th Annual Beekeeper Symposium & NSBA Annual Meeting to a virtual route.
Preregistration is required for this event. Please complete the below registration form and submit to Ashley at coordinator@agricommodity.ca prior to the February 18th deadline.
A Zoom meeting link for the 2-day event will be sent to registered participants only on Thursday, February 24th.
Read More >>
Posted:Thu, Oct 7th, 2021 9:40:54 am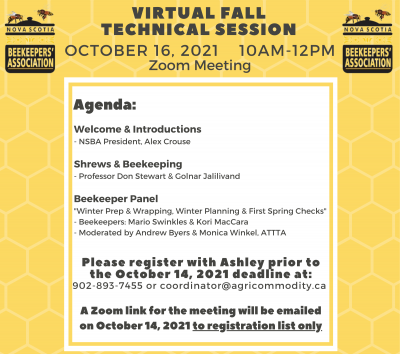 Read More >>
Posted:Wed, Jul 22nd, 2020 3:18:26 pm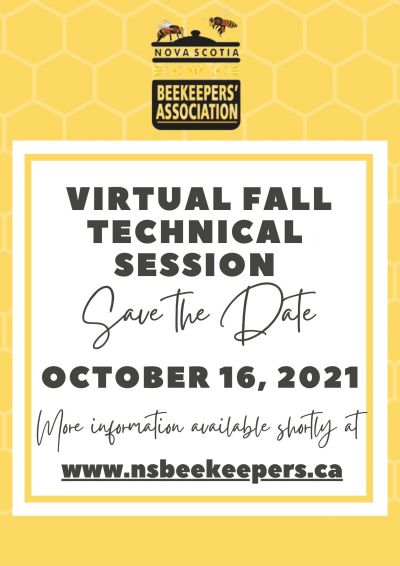 Read More >>
Posted:Wed, May 20th, 2020 12:28:54 pm
Happy world bee day!

Agriculture and Agri-Food Canada's Fredericton Research and Development Centre is hosting a live talk and Q&A with AAFC Research Scientist Dr. Jessica Vickruck & Farm Operations Supervisor Rachelle Smith tonight @ 7PM!
Read More >>
Posted:Wed, Apr 15th, 2020 9:10:00 am
FORENSIC PHOTOGRAPHY with Mike Ghaney
This course, offered by the Newfoundland and Labrador Beekeeping Association, is designed to demystify photography. Regardless if your goal is to create artistic images, promotional photos, or images for research, you will see that every photo is based on a simple formula. Even if you have never held a camera before, by the end of the two nights you will be able to use the formula to create usable images. 

TWO EVENINGS BY ZOOM:
Tuesday, April 20th, 2021 at 7pm (NLT) &
Tuesday, April 27th, 2021 at 7pm (NLT)
Members - No Cost
Members of Maritime Associations -  $20
Nonmembers - $40
For more information and to register, check out NLBKA website.
Read More >>