Helping Our Pollinators
Seed Mixes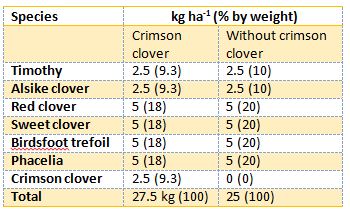 The seeding rate is 25 kg (1 bag) per hectare (2.5 acres). In order to get the best results, it is important to plant the mix in the spring. The Phacelia blooms in the first summer, followed by the crimson clover in the late summer and the sweet clover blooms the following spring/summer. Alsike clover, red clover and birdsfoot trefoil should continue to bloom for several years.

Alternatives: Triple Mix (red clover, alsike clover and timothy), which you can purchase from a variety of farm suppliers.
You can rely on the fact that neighboring properties may have pastures or hayfields with legumes or you may have native or naturalized plants (vetch, brambles, wild roses, asters, goldenrod, etc.) that provide high quality pollen and nectar for bees.

The seed mix above was ordered from Speare Seeds, Ontario.